Ice cream machines, ice cube makers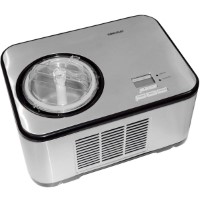 Ice cream is a preparation made up of various ingredients that is brought into a solid state by means of a freezing process.
Ice cream dishes are made from ice cream.
Ice cube makers: There are machines that can produce 12-15 kg of water ice per day.
A distinction is made between hollow cone cubes, solid cubes, flake ice or broken ice.
Show 1 to 13 (of in total 13 products)



Power supply, 230 V, 50 Hz

Volume for 1.35 litres ice cream

With compressor operation cools up to max.-35 °c

Removable coated Metalleis container

Stable induction motor suitable for continuous operation

Safety function-operation only with closed lid

Dimensions (LxB/TxH): 40 x 28.0 x 26 cm

Self-cooling compressor with CFC-free refrigerant R134A

285,99 EUR

( VAT excl. excl. Shipping costs )

Shipping time: 2 - 3 working days




3 ice cube sizes: small, medium, large
Ice storage capacity: 1 kg
220-240 Volt / 50Hz, max. 150 watts
Automatic shutdown when the container is full
Removable ice basket
Dimensions: Width: 26 cm, Depth: 33 cm, Height: 32.5 cm
Weight: 9.5 kg
HAN: Eis_Chef_GG-185W

198,99 EUR

( VAT excl. excl. Shipping costs )

Shipping time: 2 - 3 working days




Test winner in the ice cube machine test
at ExpertTesten.de in February 2018 with the test grade 1.0 (very good).
Digital ice cube maker with stainless steel housing

Production time: 5-8 minutes

5. Ice storage or storage of finished ice cubes

193,99 EUR

( VAT excl. excl. Shipping costs )

Shipping time: 2 - 3 working days




Volume for 1.5 liters of ice cream
Double insulated for a particularly good cooling results
Control via on / off switch
Ice cream in just 20 minutes (in preheat approx. 8 hours in frost or 2 hours in superfrost)
Removable coated metal ice container
non-slip feet
Noise level 65 db measured at 30 cm distance
stable blender
Filling opening for refilling
CE approval mark
detailed instruction manual including recipe suggestions
Color white
easy to handle and easy to clean
Cable length: 1.60 meters
Dimensions (L x W x H): 21 x 21 x 24 cm
Container: diameter 17.5 cm x 14 cm high
Weight: 3.18 kg

45,99 EUR

( VAT excl. excl. Shipping costs )

Shipping time: 2 - 3 working days




Make 9 ice cubes per pass (about 8 min.), Up to 15 kg of ice per day
Choose between 3 ice cube sizes in spherical shape
Suitable for glasses up to max. 17 cm height
Extra large 2 liter water tank: no water supply is needed
Storage box for up to 1 kg of ice cubes
Robust housing
Voltage: 230 V (Schuko plug)
Power: 150 watts
Dimensions: 370 x 310 x 350 mm,
Weight 11, 5 kg
HAN: Eis_Chef_GG-400_ICE

242,99 EUR

( VAT excl. excl. Shipping costs )

Shipping time: 2 - 3 working days




The device makes 9 ice cubes per run (about 6 - 12 min.), Up to 12 kg of ice per day.
Voltage: 230 V (Schuko plug)
Power: 110 watts
Dimensions: 370 x 250 x 360 mm
Weight 9.5 kg
2 ice cube sizes: small: S / large: L
Robust housing
Voltage: 230 V (Schuko plug)
HAN: Eis_Chef_GG-500_Water

MSRP 247,99 EUR
your price 299,99 EUR

( VAT excl. excl. Shipping costs )

Shipping time: 2 - 3 working days




Ice cube maker with hot and cold water function for up to 10 kg of ice cubes per day.

Power consumption ice cube production: 150 watts

Power consumption hot water preparation: 550 watts

Including connection hose for permanent water connection

271,99 EUR

( VAT excl. excl. Shipping costs )

Shipping time: 2 - 3 working days




Ice Cream Machine Yogurt Maker Frozen yogurt machine and milk shaker bottle cooler
4 in 1 ice maker, yoghurt maker, frozen yoghurt machine and milk shaker
So far, the kids had to brace themselves with patience if they were promised their own ice cream, so now there's good news for all ice cream fans:
Brand: Gino Gelati
Packaging dimensions: 30 x 25 x 25 cm
Color: white / blue
Product weight: 3 Kg
HAN: Eis_Chef_GG-70W

102,99 EUR

( VAT excl. excl. Shipping costs )

Shipping time: 2 - 3 working days




Turbo ice machine creates delicious ice cream, soft ice cream and frozen yogurt in about 50 minutes
Brand: Gino Gelati
Power: 90 watts max
Volume for 0.7 liters of ice cream
Ice cream in just 50 minutes (with ingredients at refrigerator temperature approx. 6 ° C)
With compressor operation
Stable induction motor suitable for continuous operation
Safety function - operation only with the lid closed

149,99 EUR

( VAT excl. excl. Shipping costs )

Shipping time: 2 - 3 working days




Power: 100 watts max, 230 V~, 50 Hz

Volume for 1 liter of ice cream

Ice cream in just 30 - 45 minutes (ingredients should be at room temperature (25° +/- 5°C))

With compressor operation cools down to a maximum of -30 °C

Stable induction motor suitable for continuous operation

Dimensions (LxWxH): 355 x 260 x 225.8mm

self-cooling compressor with CFC-free refrigerant R600a

Mixed mode, Freeze mode, Ice cream mode, Keep cool mode

detailed operating instructions

easy to use and easy to clean

152,99 EUR

( VAT excl. excl. Shipping costs )

Shipping time: 2 - 3 working days




Ice cube maker ice maker with LED max. 15 kg of ice cubes "
Digital ice cube maker, manufacturing time: 5-10 minutes

Steps:
1. Fill the water tank
2. Ice production
3. Water release
4. Ice ejection
5. Ice storage or storage of finished ice cubes
Ice cube sizes: 3 sizes - small, medium, large
Ice storage capacity 1 kg
Large water tank 2.8 liters
220-240 Volt / 50Hz, max. 150 watts
Refrigerant: R 134a CFC-free, 46 g
Automatic shutdown when the container is full

145,99 EUR

( VAT excl. excl. Shipping costs )

Shipping time: 2 - 3 working days




makes 0.5 kg of ice cubes per hour, 12 kg per day
3 different ice cube sizes in spherical form (S, M or L)
Extra large 1.8 liter water tank
Robust housing
Power: 150 watts
Cable length: 1.4 m
electrical connection: 220 - 240 W, 50Hz
Refrigerant: R-600a (isobutane)
Weight: approx. 11.5 kg
Dimensions (LxWxH): 41.6 x 31.0 x 36.6 cm
HAN: Eis_Chef_IC-150W-LCD-Turku_
EAN: Not applicable
Weight incl. Packaging: 13.5 Kg

271,99 EUR

( VAT excl. excl. Shipping costs )

Shipping time: 2 - 3 working days




Digital Ice Cube Maker Production time: 5-10 minutes

5. Ice storage or storage of finished ice cubes

288,99 EUR

( VAT excl. excl. Shipping costs )

Shipping time: 2 - 3 working days
Show 1 to 13 (of in total 13 products)